TRoD: Chapter 23, Part 2: Satan and Tarot
Murphy goes on to list THIRTY different names for Lucifer.  Most of them are what you'd expect (Apollyon, Morning Star, Liar, Wicked One), though I'm rather intrigued by Spirit That Works In Disobedient Children, because that sounds like exactly the sort of thing that would encourage RTC parents to beat their 15-MONTH-OLD children.  (And remember to use the proper implement, parents!  Make sure to whack your kids with objects so they still love you!)
My disgust with good RTC discipline aside, Murphy blathers on about Satan and his power for a minute, then Summer Van Doren leaves.  I suppose a less confident Manly Man might assume she was offended, but Murphy just assumes she has a class in Sexy Volleyball to teach.
She sure is easy on the eyes.
Isis?  Isis that I kiss and said I'm in love with?  Isis who?
Murphy actually touches on archeology for one minute and 15 seconds of class (yes, I timed it), in discussing gargoyles on cathedrals.  (Can't trust those Catholics!)  But then he remembers himself, and starts in on The Satanic Bible and a bunch of semi-related Things Michael Murphy Doesn't Like, including D&D, tarot cards, and yoga.
Remember, kids: this is a Biblical Archaeology class.
The really hilarious part of all this is that a student gets him going:
"In cultural parades and events, Asians will often have a long, colorful costume that forms a fire-breathing dragon.  This costume is carried by many people and weaves back and forth through the crowds of people.  Just another example of the strong influence otherworldly creators have had on society."

A hand went up.

"Dr. Murphy, does that include things like seances, card reading, and crystal-ball reading?"
I have a feeling that the students have BINGO cards, and one of the squares is "blathers on about innocent pastimes he has never experienced."
Murphy takes the cue, and blathers on about Anton LaVey and Satanism, which I won't go into too much about here, because Phillips once again uses the genius technique of cut-pasting from Wikipedia.
And I also imagine that the students have a standing bet as to which of them can get Murphy the furthest from Biblical archaeology.  This just might be this semester's winner!
But then he decides to go for the gold (of PowerPoint list-making) and puts up a list of 28 things that "have grown out of demon-related thinking."
(And, no offense or anything, but isn't demon-related thinking what Murphy's been engaged with this past hour of class, not to mention the prep?)
Murphy throws everything but the kitchen sink on this list, from astrology and ouija boards and tarot cards (no surprises there), to "blood rituals" (??? isn't Christianity itself one big blood ritual), pyramid power, the Lucis Trust (as we remember from the last book, LaHate really hates those folks), and, of course, D&D.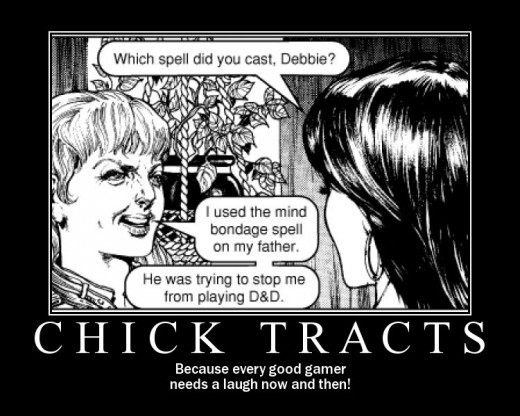 Now, with RTC panic over nerds pretending to be bards and dwarves and orcs stuff (see also here and here), not to mention the many other RPGs out there where you can pretend to be in a paranormal colonial America…
…on a Federation starship…
…or, my personal favorite, The 'Verse…
…you can really have some endless fun mocking the RTCs' fear of tarot cards.
(Full disclosure: I read tarot cards myself.  No, I don't believe in any spirits or demons or anything supernatural at all.  I just think they're pretty and fun, and can provoke interesting conversation and even insights.)
Anyway, the Christian community is pretty divided on tarot cards.  There are actually Christian tarot cards out there, but plenty of cautionary tales about how tarot (and ouija, and crystals, and astrology) are just ways to let TEH DEBBIL into your life.
Like I said last time, I just find it odd that RTCs, who are supposed to be unafraid, think they are one roll of the dice (literally, HA!) away from The Enemy Gaining a Foothold.
Clear tools of demons
Oh, and Murphy also thinks yoga is satanic.  Because flexibility is just plain wrong.  (Actually, in the ethical sense, I suppose RTCs agree with that, too.)
To close class, Murphy gives them an assignment that should no doubt be required of every archaeology student in the world:
"…think about two questions: One, to what extent have I been exposed to occult-type philosophy?  And two, how has it affected my thinking and daily life?"
Can't wait until Dean Archer Fallworth hears about this one!